Home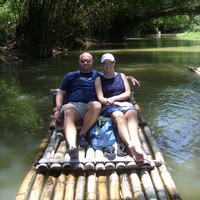 Welcome!
Welcome to my world. Although I have had various incarnations of this site since 1996, it is has occasionally fallen by the wayside due to my belief that other things were more important! However, NOTHING is more important than the spirit and essence emanating from this living and breathing site.
Thoughts, Quotes, Maxims, and other Pithy Sayings
"A poor programmer can create a complex solution for a non-existent problem.
A good programmer can create a complicated solution for a simple problem.
A sophisticated programmer can create a simple solution for a complex problem." - This is just something I have noticed over the years. I've met a few of each kind of programmer, even though some claim there are only 10 types of programmers.
"If something can be measured, someone will mismanage it." - Me rewording of the traditional "What gets measured, gets managed." The first one is sometimes true, the second one is sometimes true.
"If something can be measured, someone will mismeasure it." - Me rewording of the traditional "What gets measured, gets managed." A truism if ever there was one. The first one is almost always true even if only mismeasured a little, the second one is sometimes true. In particular, heuristics with no actual correlation are the great fallacious cliff off of which most people jump. The next hurdle is actually making useful management predictions from mismeasurements.
"I really like the Dollar Store; I don't feel like I have to get all dressed up like when I go to Wal-Mart!" - My wife heard someone say this.
"Declare Variables, Not War."
"A good scientist is a person with original ideas. A good engineer is a person who makes a design that works with as few original ideas as possible. There are no prima donnas in engineering." - Freeman Dyson
I invite you to add your essence and aura to this organic monstrosity that soon will dominate the WORLD!
If you are going to use hyperbole, bully all the way, right? In reality, if enough people check this out and find a few ads interesting occasionally and it can cover the couple dollars a month for hosting, it is WORTH IT! :-)
Now seriously, hopefully there is some good stuff here for you. I try to review things when I really like them or really hate them. I love to share pointers (trucs et astuces, en français) so that others may benefit.
Stuff you will find here:
In particular, we like to write about Hawaii, Streams of Consciousness, ColdFusion, Anti-Politics and Politics, Yummy Recipes, Yummy Food, Good Experiences & Reviews, Bad Experiences & Reviews, How to build a rocking HTPC for cheap, lots of photos & videos, MUSIC, Will's word of the day, and other random stuff.
Please feel free to join in!!!
There are cases where you can get out of your mortgage or at least the promissory portion. If you are lucky enough to have a stupid bank who can't keep track of their paperwork, here is how.
I use this when I can remember and I save a few percentage points on my online purchases. Try it!
CachedSince:{ts '2017-08-16 14:14:08'}